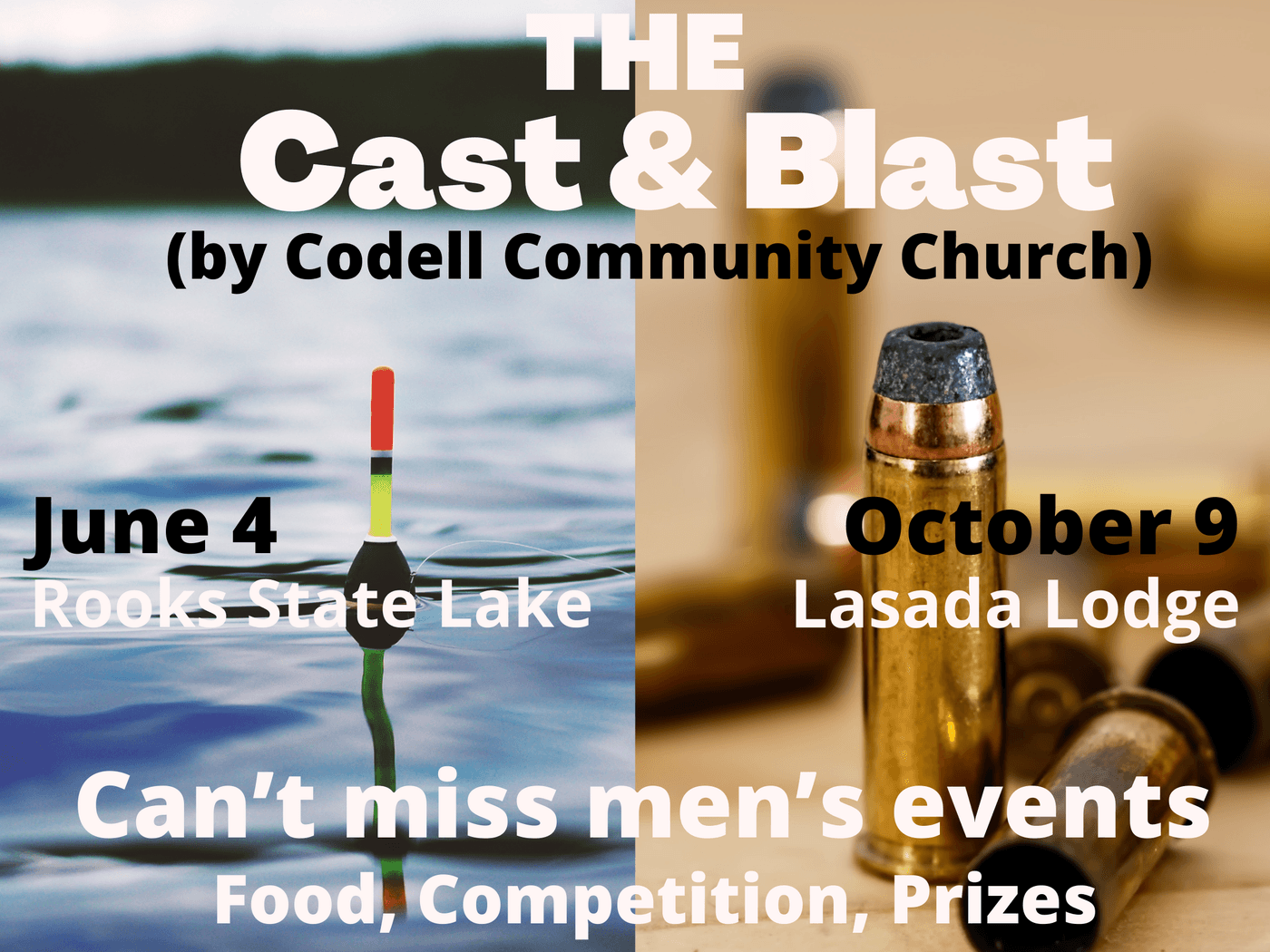 Cast & Blast 2022
Welcome to the official site of Cast and Blast 2022 where you will find ALL of the information about this year's events!
Make sure to scroll down and learn about the opportunity to win the Outdoorsman of the Year Award!
---
Here's What Happened at the Cast 2022!
---
The Blast will Be Here Soon! Don't Miss It!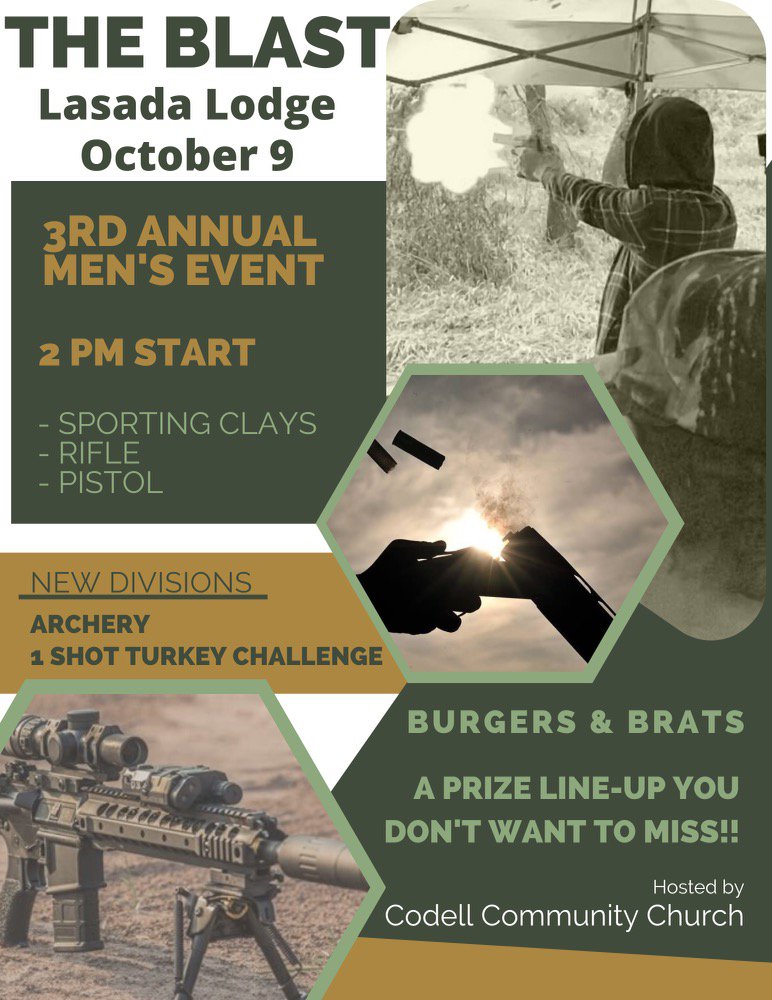 The Blast will be held once again at Lasada Lodge, south of Russell, on October 9th 2022. We get things kicked off at 1:30 so show up a couple of minutes early to get signed in!
Prizes will be awarded for the following:
Pistol Divisions
Best Score for Sporting Clays
Rifle Divisions
New for this Year: One Shot Turkey Challenge AND Archery Division
Expect great food, prizes, message and more!
Just an FYI, this event is known for the great prizes that are dished out!
---
The Cast
The Cast was held at Rooks County Lake on June 4th, 2022.
It was insane with a fishing tournament, food, prizes, and more!
Categories for the fishing tournament were:
Biggest Crappie
Most inches Crappie
Biggest Bass
Most inches Bass
Biggest Catfish
Most inches Catfish
Biggest any fish
Overall - Total inches of all species
Prizes were awarded to all the winners of the categories and we threw in a couple of other fun prizes as well!
We want to see you next year!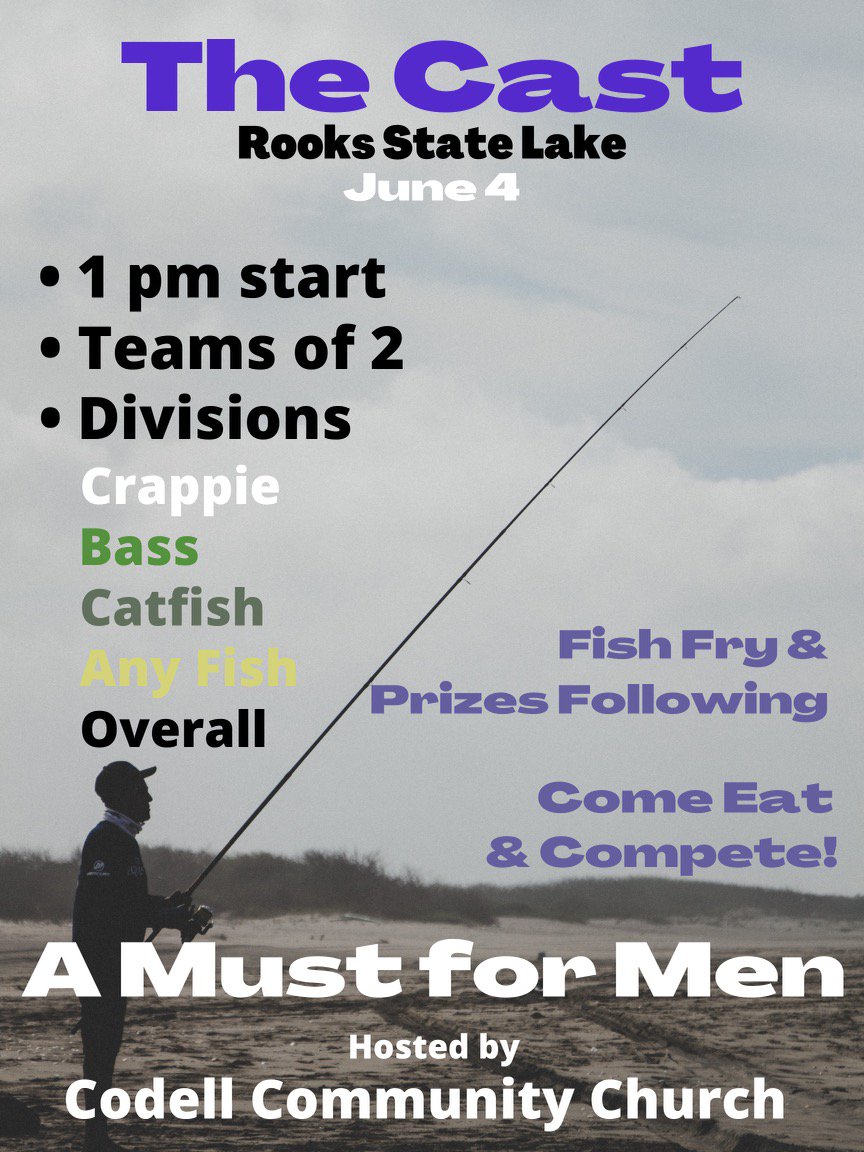 ---
Compete for Outdoorsman of the Year!
Current standings for outdoorsman of the year
We will also be adding this year the Outdoorsman of the Year Award! We will combine scores from the Cast AND the Blast and the person with the top score from BOTH events will be the 2022 Outdoorsman of the Year! Must compete in both events in order to have a chance at winning!
Ethan N. - 56
Jeff W. - 40
Christian O - 34
Cody W. - 28
Butch P. - 20
Donavan - 16
Nik A. - 12
Branson G. - 10
Shawn S. - 8
James M. - 6
Zach Z. - 4
Chase Z. - 4
Dakota G. - 2
---
Sponsors for The Cast & Blast Include!
We are incredibly grateful for our generous sponsors for the Cast and Blast! They are truly the ones who make these events a success! AND check back as you will find more sponsors are added daily!
Big XII Conference - https://big12sports.com/
Blue Water Candy Lures - https://bluewatercandy.com/
Bomgaars - Russell, KS - https://www.bomgaars.com/
Bowman Oil Company - Codell, KS
C-Bar Foods
CanCooker - https://www.cancooker.com/
Carmichael's True Value - Plainville
Carquest Auto Parts - Stockton, KS - https://www.carquest.com/
CM Enterprises LLC - Connor Aldridge
Cornwell Quality Tools - Aaron Rumpel - https://www.cornwelltools.com/
Duckett Fishing - www.duckettfishing.com
Eberlestock - www.eberlestock.com
EGO Fishing - www.egofishing.com/
Gator Waders - www.gatorwaders.com/
Green River Lake Crappie - https://greenriverlakecrappietrips.com/
GSM Outdoors - https://www.gsmoutdoors.com/
Home Depot - Hays, KS - https://www.homedepot.com/
Home Oil - Lucas, KS
K&W Meat Processing, Natoma, KS - https://www.facebook.com/people/KW-Meat-Processing/100063690844749/
Ledlenser - www.ledlenserusa.com/
Lunkerhunt - https://lunkerhunt.com/
Montana Canvas - www.montanacanvas.com/
Mr. K's Foodtown Plainville - https://www.mrksfoodtown.com/
MR Target - https://www.mrtargetonline.com/
MTN - Ops - www.mtnops.com/
MTN TOUGH - www.mtntough.com/
Mustad - www.mustad-fishing.com/us
Orscheln's - Hays, KS - https://www.orschelnfarmhome.com/
Outdoor Obsessions - www.myoutdoorobsessions.com/
Ozonics - www.ozonicshunting.com/
PEET Dryer - www.peetdryer.com/
Pfortmiller Farms - Natoma, KS
Promar-Ahi USA - www.promarahi.com/
Rig'em Right Waterfowl - www.rigemright.com/
Ryan Kirby Art - www.ryankirbyart.com/
S&W Supply - Plainville
Shadow Hunter - www.shadowhunterblinds.com/
Simms - www.simmsfishing.com/
Skeleton Optics - https://skeletonoptics.com/
SKRE Gear - www.skregear.com/
Smith Monuments - Stockton, KS - smithmonumentsstockton.com
Snap-On - Scott Keith - https://www.snapon.com/
Stoppel Supply - Russell, KS
Swhacker - www.swhacker.com/
Tyler's Automotive - Plainville, KS
Unique ARs - www.unique-ars.com
Walmart - Hays, KS - https://www.walmart.com/
Webster's Bait & Tackle - Stockton, KS - https://www.facebook.com/profile.php?id=100057209541142
Whitetail Properties - Adam Hann - www.whitetailproperties.com
Wilderness Athlete - www.wildernessathlete.com
Yak-Power - www.yak-power.com/
Zebco - www.zebco.com
More Sponsors are Welcomed!
Join us in providing an awesome event to impact men's lives! Donating awesome prizes and monetary are welcomed!
---
Let us know if you have any questions!